Guillain Barrè Syndrome MCQs
Guillain Barrè syndrome (GBS) is a condition of acute demyelinating polyneuropathy. The presentation is a form of ascending paralysis. There is a spectrum of diseases ranging from acute motor axonal neuropathy to Miller-Fisher syndrome. Here we hope to provide you a good knowledge on GBS via MCQs.
Go through following MCQs on Guillain Barre syndrome while reading a standard textbook. (Have all the medical textbooks for free. Click here to know how.) You will be a master of GBS at the end.
Watch this YouTube video on GBS to have a better understanding on it before doing the MCQs.
Guillain Barrè Syndrome MCQs
Clinical features
A 20 year old girl presented with weakness in lower extremities for 6 hours duration. The weakness was progressively increasing. Upper extremities are normal. Which of the following causes are possible in this patient. (Mention one or more)

Spinal cord compression
Myasthenia gravis
Miller-Fisher syndrome
Guillain Barrè syndrome
Botulism

In history you find out that she has been suffered from mild gastrointestinal infection about 3 weeks back and on further inquiry you suspect GBS in this patient. What could be the possible organism responsible for previous GI infection? (Choose one answer)

Salmonella typhi
Escherichia coli
Vibrio cholerae
Entamoeba histolytica
Campylobacter jejuni

Which of the followings are the possible clinical feature or complications you expect in this patient? (Mention one or more)

Weakness of bilateral leg muscles
Loss of sensation over the lower limbs
Exaggerated tendon reflexes
Respiratory failure
Urinary incontinence
Diagnosis
Which of the following investigations will provide useful information regarding the diagnosis of the disease? (Mention one or more)

Nerve conduction study
Electromyography
CSF protein level
CSF glucose level
Lung function tests
Course and management
Now you have diagnosed this patient as having GBS. Answer the following questions regarding the management of the disease.
Which of the following parameter will you measure to see any respiratory failure? (Select the best answer)

Chest expansion
Vital capacity
Single breath count
Peak expiratory flow rate
SpO2

Which of the following measure can be taken to prevent venous thromboembolism? (Mention one or more)

Low molecular weight heparin
Tissue plasminogen activators
Warfarin therapy
Compression stockings
Mobilization

For this patient you give intravenous immunoglobulin (IVIg). What specific investigation you would do before starting IVIg therapy? (Select one)

Full blood count
CPK level
Chest X ray
IgA level
IgG level

If the patient is not improving with IVIg therapy, what is the next available option? (Select the best option)

IV hydrocortisone
IV methyl prednisolone
Plasma paresis
Immunosuppressants
IV antibitics
Answers
(T,T,F,T,T) Miller-Fisher syndrome mainly causes occular muscle palsy and ataxia. All other causes are possible in this case.
Campylobacter jejuni. GBS can be caused following infections from organisms like C. jejuni and Cytomegalo virus. The mechanism is; the antibodies formed against lipopolysaccharides on the organism cross react with GM1 glycosphingolipids in nerve gangliosides. (Refer the image below for a better understanding.)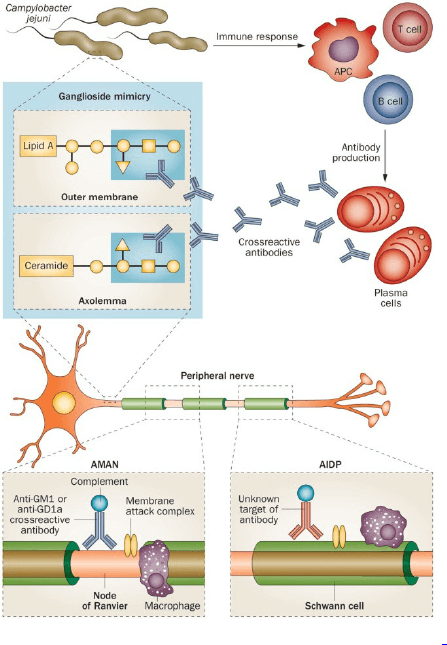 (T,T,F,T,F) Weakness and sensory loss can present in GBS. It occur in ascending pattern. When the paralysis affects the diaphragm and respiratory muscles, respiratory failure can result in. However, reflexes are diminished or absent. Since this is disease of peripheral nervous system urinary incontinence cannot happen.
(T,F,T,T,F) In GBS nerve conduction study will show slow conduction. CSF study will show a high protein but a normal glucose level. So these tests are of diagnostic importance. Since there is mo pathology in the muscle, EMG will be normal. Lung function tests may help in detecting complications like respiratory failure. It will not help in diagnosing the condition.
Vital capacity. Here, single breath count test and SpO2 may also deteriorate. But the best response is the vital capacity.
(T,F,F,T,F) The appropriate two methods of preventing venous thromboembolism are LMWH and compression stockings.
IgA level. IVIg infusion can cause severe allergic reactions due to IgG antibodies when congenital IgA deficiency is present.
Plasma paresis is the next available best option.